How to care for your non-stick pan
A non-stick pan never lasts forever. To make it last for as long as possible, there are some important things to take into account
Do I need to treat a non-stick pan before the first use?
No. A new non-stick pan is ready to go. Although obviously it's good practice to rinse and clean a new pan before you first use it. A non-stick pan doesn't need to be seasoned, like a carbon steel or (light weight) cast iron pan. On the contrary, seasoning or polymerized fat is one of your non-stick coated pan's main enemies.
Cleaning
Always clean your non-stick pan thoroughly after each use, but don't put it in the dishwasher. Hot water, dishwashing liquid and a brush or a sponge (no scouring pad or metal sponge) will help degreasing the pan and preventing accidental seasoning next time you use it, which will eventually render your non-stick coating impossible to clean.
Dishwasher detergent nowadays is very aggressive and will make your non-stick pans wear down a lot quicker, shortening the lifespan substantially.

Never put your non-stick frying pans in the dishwasher.
Tools
Don't use any sharp objects (especially knives and forks) and be very careful when using metal utensils. Better yet, avoid using them altogether. Wooden or silicone spatulas are softer materials and the best choice for use in a non-stick pan. The ultra strong and durable Stratanium and Stratanium+ coatings made by Scanpan can also be used with metal utensils with minimal risk, but we would still recommend using gentler alternatives for a maximum lifespan.

Wooden and silicone spatulas are the best choice for use in a non-stick pan.
Temperature
Avoid overheating your pan. Of course it's ok to heat up your pan to a nice frying temperature, but temperatures above 230 °C (440 °F) will make the coating wear down a lot quicker and extreme and prolonged overheating can even release pieces of the coating from the pan. Scanpan's CTX, HaptIQ and TechnIQ ranges are especially heat resistant and can safely be heated up to 260 °C (500 °F).
To prevent overheating make sure to always add oil, butter and other ingredients in time and turn down the heat or induction setting when the pan has reached its desired temperature (keeping it at the same setting will usually keeping heating up the pan more and more. This obviously depends on the pan's heat retention and especially the amount of cold ingredients and liquids added to the pan.
It's always better to allow any frying pan to heat up slowly: to save the non-stick coating (if there is one), to prevent warping or deforming and to make sure the heat can be distributed evenly.
NEVER use the highest induction setting or booster function for any of your frying pans!

Scanpan's CTX, HaptIQ and TechnIQ ranges are even heat resistant and oven safe up to 260 °C (500 °F).
Do you want to use a frying pan at extremely high temperatures, for searing meat or other ingredients, flambéing, broiling or dry roasting seeds or nuts, make sure to use a stainless steel, carbon steel or cast iron frying pan instead.
Do these instructions apply to ceramic frying pans as well?
Yes, definitely. Non-stick frying pans with a ceramic coating (like Demeyere's Alu Plus and Alu Comfort ranges) should be treated with the same care as regular PTFE-coated pans. Perhaps even more. 
PTFE is non-stick because of its chemical properties, whereas ceramic material can be made non-stick because of its smooth surface. When this surface starts to wear down and deteriorate, because of grinding or, more often, heat, the pan can start losing its non-stick properties quite rapidly. When that happens, a ceramic pan's decline is not as gradual as a PTFE-based one, but rather steep.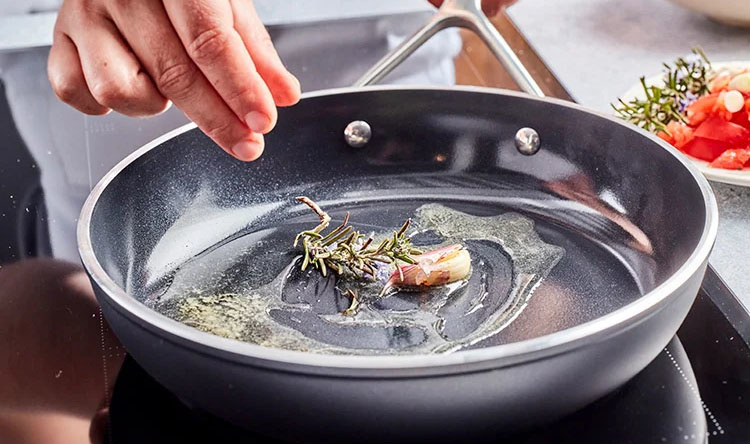 Ceramic non-stick pans also need to be treated with care and consideration.